Global Compact Asian-Pacific Regional Conclave
Ms. Tanim Laila, Director, Economics Division, participated at the Global Compact Asia Pacific Regional Conclave 2010. This was supported by the Untied Nations Global Compact which is the largest voluntray CSR initiative in the world, started by the United Nations Secretary General in 2000 and is committed to internalize its ten principles covering the issues of Human Rights, Labour, Environment and Anti-Corrption. The Institute of Hazrat Mohammad SAW is a signatory to the United Nations Global Compact.
Participants:
Venue:Hotel Ashok, New Delhi
Date:2010-03-15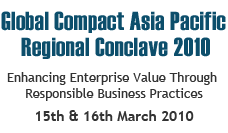 *(SAW) is acronym for 'Sallalahu Alayhe Wasallam', which means 'Peace be Upon Him'.